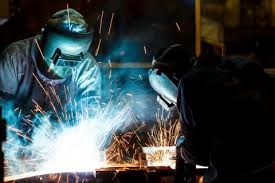 We provide high quality shipboard alteration installation, planning and coordination. With decades of experience, JAANN, Inc. technicians are qualified in welding, structural fabrication, pipe fitting, cable installation standards and Mil-Spec connector fabrication.
Certified for Fabrication, Welding & Installation:

Welding Processes:
Systems:
5XXX Aluminum Superstructure
Flux Core w/ Ceramic Backing
Structural Layout & Fit-Up
Materials:
Copper Nickel (CuNi)
Stainless Steel
JAANN machinists are qualified in foundation machining, drilling, , bonding, shimming and equipment installation.
Our Pipe Fitters and Welders are Certified to NAVSEA, ABS, ASME & AWS Standards and are experienced performing all aspects of pipe fabrication and installation. Processes include Stick, MIG and TIG on all materials including aluminum, copper, copper nickel and stainless steel.
Our qualified shipboard electricians are skilled at cable removal and installation, electrical system hookup and connector fabrication in accordance with NAVSEA Standard Items 009-73 and 009-123 and MIL-STD-2003 (EPISM), MIL-STD-1678 (Fiber Optic Cabling System Requirements and Measurements) and MIL-STD-2042 (Fiber Optic Cable Topology Installation Standard Methods)